Michael Jackson vs. Beyoncé: Who Is The Better Performer?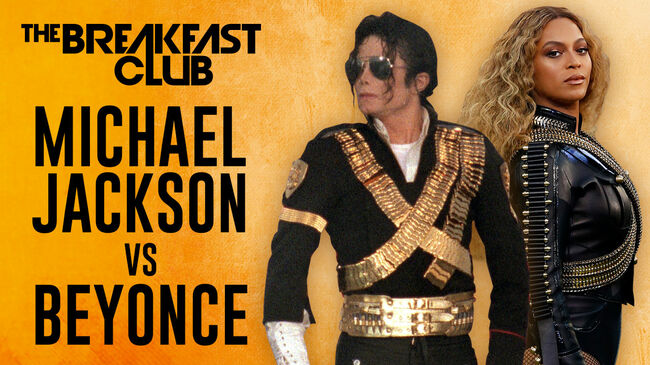 Following Beyoncé's incredible HBCU-inspired performance at Coachella, The Breakfast Club got into a heated debate about who is the better performer, Michael Jackson or Beyoncé? A debate this controversial needed some rules, we are talking strictly about performance - not the albums, not the songs, and not the legacy of each artist.
Charlamagne Tha God believes Beyoncé to be the better performer, saying, "there was a time before Michael (Jackson) where people thought saying anyone was a better performer than James Brown was blasphemous so I'm saying all that to say that things can change. Same way James Brown raised the bar, Michael Jackson raised the bar higher and now Beyoncé has raised the bar higher than both of them. I'm talking strictly live performances, nothing else," he explained.
He continued, "all you gotta is go to YouTube, right, and you can Google 'Beyoncé 2016 VMA Performance,' her 2013 Super Bowl performance, her Coachella performance, compare that to Michael's '93 Super Bowl performance, his 1995 VMA performance and his Motown 25 appearance. I'm gonna be honest with you, man. It's not even close. Beyoncé smokes Michael onstage."
Callers were outraged after Charlamagne's comments and everyone who called into the show completly disagreed with him. It was a unanimous vote for Michael Jackson for the better performer, saying that people fainted at his shows.
Ebony from Florida was the only caller to agree with Charlamagne. "Beyoncé, she definitely represented. She's just an all-around performer. If you want to talk musically, Michael Jackson is up there but all-around, (Beyoncé) definitely represented.
Listen below:

The Breakfast Club
Want to know more about Breakfast Club? Get their official bio, social pages and articles on The Breakfast Club!
Read more