You're Wrong For Thinking Safaree Deserves 'Donkey Of The Day'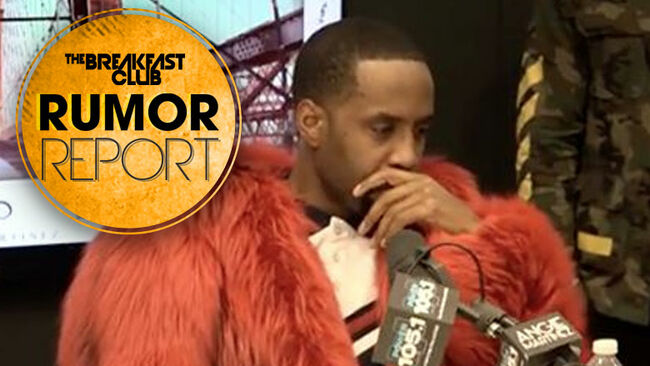 People are very cold. Safaree was robbed at gunpoint just hours before sitting down with Angie Martinez for an interview. Clearly shaken up and holding back tears, Safaree opened up about the gut-wrenching and traumatizing experience of having a gun put to his head. To make matters worse, his uncle was just killed in a robbery. "They just caught me by myself, I got out my car and they just came out of nowhere," Safaree explained to Angie. "I had about $175,000 [worth of jewelry] on me," he continued.
As soon as the news broke, Charlamagne was getting tweets saying that Safaree deserved 'Donkey Of The Day' for getting robbed and sharing his experience on air.
"He's still dealing with the trauma from his uncle then that happened to him. People are very cold, man because people been hitting me up saying, "give Safaree Donkey Of The Day," why would I give a man Donkey Of The Day getting robbed," Charlamagne said during The Breakfast Club.
"I will say, I don't know why you'd come do an interview with Angie Martinez. That I would like to know," Charlamagne asked. Envy and Yee defended Safaree on that point, saying he is a hard worker and didn't want to cancel the interview.
Charlamagne responded to people calling for Safaree deserving Donkey Of The Day, replying, "For what? What's wrong with y'all? Anybody can get robbed. Y'all really weird on social media."
People were quick to deliver the nonsensical argument that he gave Monique DOTD so somehow Safaree deserves it too. How those two are even connected makes no sense.
Why does social media want to get off as many jokes and memes as possible at the expense of someone's traumatic experience? There are too many weirdos out there.
Listen to Angela Yee, DJ Envy, and Charlamagne break it down in the 'Rumor Report' below:

The Breakfast Club
Want to know more about Breakfast Club? Get their official bio, social pages and articles on The Breakfast Club!
Read more