Jonah Hill Talks Kanye West's Love For Trump On The Breakfast Club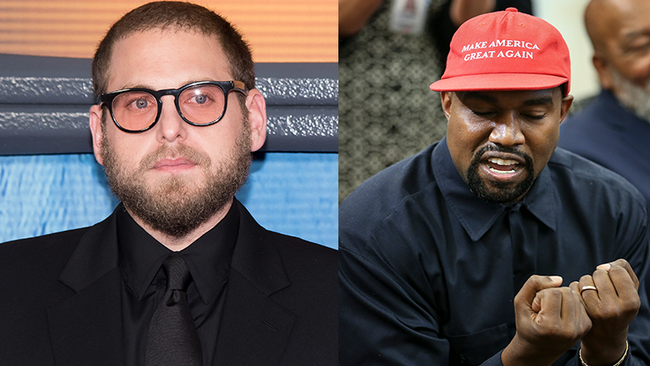 Jonah Hill stopped by The Breakfast Club to hang out with DJ Envy, Angela Yee, and Charlamagne Tha God and talk about his directorial debut Mid90s. The 34-year-old first-time director opened up about the hip-hop music that helped shape his childhood, as well as the movie.
One of Hill's biggest musical influences growing up was Kanye West, calling the controversial rapper his Michael Jackson. Hill was even flown out to Wyoming to attend Ye's exclusive album listening party a few months back. "I love his music, but I don't know what the f**K is going on right now," Hill said of his musical idol's outspoken love for President Trump. "That's my line. I love his music. I don't know what the f**K this is about. That's as clear as I can say it. I had to, like, come up with a sentence [to be able to explain it]. That's it."
Hill went on to talk about the complicated relationship between artists and consumers, asking if it's okay to love something an artist like Kanye creates if you disagree with their political opinions. "Art vs. artist, this is a huge topic. If you're an artist, are you a moralist? Can he make great art and have political views that we all hate? It's personal to everybody."
"He was such an advocate for the black and brown community," Charlamagne responded, explaining why it's so difficult to see Kanye show so much love to Trump. "To go right when everybody else is on the left is weird."
Hill admitted that he "can't watch" Ye's interactions with Trump because "it upsets me." He went on to say that Kanye is "my dude...I'm 34, when Kanye came out...that's my generation's dude. It's my Michael Jackson. It's literally that important. It is hard to watch this s**t. I love his music, but this s**t I can't get with. That's it. Simple as that. Have love for the dude, love his music, but this s**t I can't get with."
Watch Jonah Hill's full interview on The Breakfast Club: